Historical Society Honors Orlando Magic Legend Pat Williams
11th John Young History Maker Celebration also paid tribute to Dr. William Monroe Wells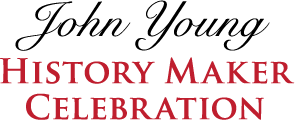 The Historical Society of Central Florida presented its prestigious John Young History Maker Award to Pat Williams, co-founder and senior vice president of the Orlando Magic.
The award is named for NASA's longest-serving astronaut, Capt. John Young, who grew up in Orlando and was its first recipient. It is given annually to a Central Floridian whose achievements have made a historic impact on the community and is the Historical Society's highest honor.
As sports columnist Mike Bianchi has written, Pat Williams is "the dreamer and doer who brought professional sports to Orlando" in the mid-1980s. A basketball Hall-of-Famer, he has been named one of the 50 most influential people in NBA history.
Already a veteran basketball manager, Williams joined with businessman James Hewitt in the mid-1980s to convince NBA leadership that Central Florida could support an NBA franchise. The league awarded the Orlando Magic an expansion spot in 1987, and the team made its debut in 1989 with Williams as its inaugural manager. The team went to the NBA Finals in 1995 after the Magic, represented by Williams, drafted Shaquille O'Neal in 1992 and Penny Hardaway in 1993.
Williams and his wife, Ruth, are also well known in the community as the parents of 19 children, including 14 adopted from four nations. The family has been featured in publications ranging from Good Housekeeping to The Wall Street Journal. A popular speaker on topics including leadership and team-building, Williams has also inspired others during his battle with multiple myeloma, diagnosed in 2011.
At the 11th Annual John Young History Maker Celebration on April 5, the Historical Society also honored Dr. William Monroe Wells with its History Maker Past Award. Wells (1889-1957) was an influential Orlando doctor who in 1921 built a hotel to serve African Americans, who were barred from segregated hotels. The building now houses the Wells' Built Museum and is on the National Register of Historic Places. Wells also built the South Street Casino, the site of many performances by famous musicians and a longtime center of community.
The April 5 event also featured the presentation of the 2017 John Young History Maker Future Award and scholarship (see below).
Funds raised from the John Young History Maker Celebration support exhibitions and educational programs at the Orange County Regional History Center.
Thanks to our sponsors:
Shooting Guard

Small Forward
Walt Disney World
Florida Hospital Foundation
Orlando Health
Center
Advantage Media / FORBES Books
Aetna
City of Orlando
Commerce National Bank & Trust
GrayRobinson, P.A.
JPMorgan Chase
Killgore, Pearlman, Stamp, Ornstein & Squires, P.A.
Orlando Federal Credit Union
Seaside National Bank
Dr. Robert & Rosalee Serros
Previous John Young History Maker Honorees
Captain John Young, 2005

Colonel Joe Kittinger, 2006

Toni Jennings, 2007

Charles Gray, 2008

Charles Millican, 2010

John Hillenmeyer, 2011

Ann Sonntag, 2012

Rita Bornstein, 2013

Judge Belvin Perry, Jr., 2014
---
John Young History Maker Celebration Event and Scott Harris Memorial Scholarship Award
The Historical Society of Central Florida established the John Young History Maker Scholarship as part of the John Young History Maker Celebration, which began in 2005.
The celebration and awards honor the legacy of the nation's longest-serving astronaut, Captain John Young, who grew up in Orlando. They also reflect the History Center's mission – to honor the past and explore the present to shape the future – by recognizing Central Floridians whose lifetime achievement has created a lasting positive impression on our community.
The 11th Annual John Young History Maker Celebration event took place Wednesday, April 5, 2017, in Orlando, Florida.
The John Young Future History Maker Award was established to recognize a Central Florida high school senior (and, when funding is available, more than one) who is attending a college or university with the goal of making a difference (making history) in future lives in a positive way.
Now named the Scott Harris Memorial Scholarship, the award honors the late television anchor at Central Florida News 13, who played an integral role as emcee of the annual John Young programs until his passing in 2011.